Bridges is the eBook, audiobook, and streaming video consortium for Iowa public libraries.
Simply click on the above link, when prompted choose Laurens Public Library from the pull-down list, then enter your 4 digit library card number.

TumbleBooks' databases for kids are easy to use, and feature unlimited access from home! You can read as many books as you want, when you want, and on any device. There are no check-outs, holds, or bulky downloads. Books are available instantly.
Local Digital Archive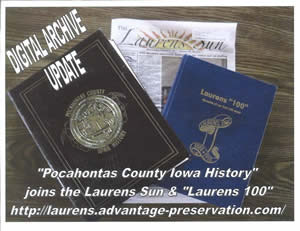 Visit our Digital Archives to read issues of the Laurens Sun newspaper 1885-2018, as well as our local history books: Laurens 100 and History of Pocahontas County.
"The Pioneer History of Pocahontas County, Iowa : from the time of its earliest settlement to the present time" by Flickinger is available online in 2 distinctly different formats. Here are the links: