Bridges is the eBook, audiobook, and streaming video consortium for Iowa public libraries.
Simply click on the above link, when prompted choose Laurens Public Library from the pull-down list, then enter your 4 digit library card number.
Local Digital Archive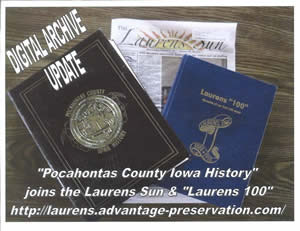 Visit our Digital Archives to read issues of the Laurens Sun newspaper 1885-2019, as well as our local history books: Laurens 100 and History of Pocahontas County.
"The Pioneer History of Pocahontas County, Iowa : from the time of its earliest settlement to the present time" by Flickinger is available online in 2 distinctly different formats. Here are the links: